Weekly Immigration News March 13 – 19, 2023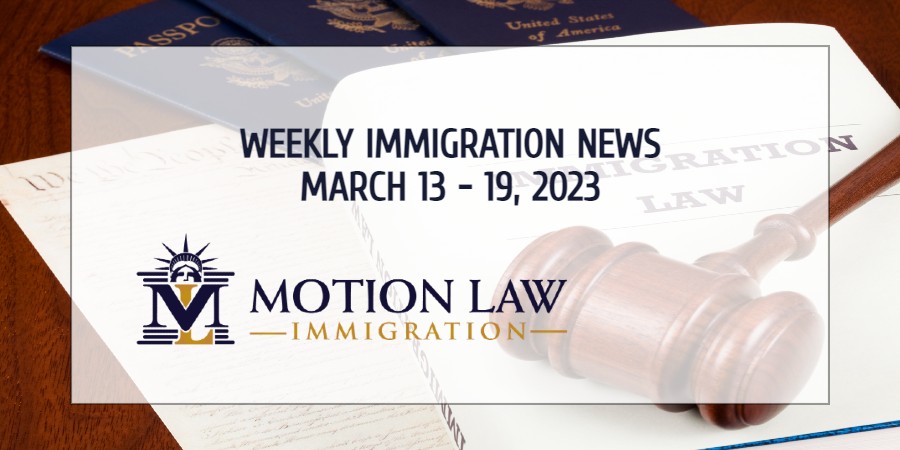 Weekly Immigration News Summary
It is essential to understand the immigration system, or at least be up to date with current policies, when starting an immigration journey in the US, or even if you just need to renew your legal permit or complete a pending process within the country.
We recommend this mainly because local immigration processes are not always permanent, but rather tend to change regularly depending on global conditions, social needs, ideals of the country's administration and many other factors.
Therefore, to avoid possible rejection of your application, the ideal would be for you to be up to date with the most recent immigration news and have the constant accompaniment of experts on immigration matters.
For this last option, we recommend for you to contact Motion Law Immigration and ask for a FREE Consultation with our attorneys, who have years of experience guiding people through all kinds of immigration processes.
Here is the immigration news recap for the second week of March, 2023:
Immigration as a guarantee of Democracy in the US
The US is characterized as a country at the forefront of Democracy worldwide. However, immigration seems to be the blind spot in the negotiations between Republican and Democratic representatives. To learn more about this news, click here.
Following expert guidance is essential during your immigration process
It is no secret that the US, as a first world country, is the destination for hundreds of thousands of people around the world, who yearn to come here to build a promising future and be reunited with their loved ones. To learn more about this news, click here.
Reduced immigration influences the US labor system
The Great Resignation, as the job desertion phenomenon caused by the spread of the COVID-19 virus, tremendously affected the business sector. Aside from that, the continued reduction in immigration since 2016 has generated a significant reduction in the US workforce. To learn more about this news, click here.
Anti-immigrant policies are very costly
Recent academic research reveals that restrictive immigration policies implemented by the Trump administration cost the government more than they contributed. To learn more about this news, click here.
Country's competitiveness improves with immigration
A recent report discusses the advantages that increased immigration could bring to the country, especially when it comes to economic competitiveness. To learn more about this news, click here.
Does the immigration system hinder economic development?
U.S former labor Secretary and other experts comment on how the immigration system is affecting the economic development of American businesses. To learn more about this news, click here.
Begin your immigration journey today!
We want to help you fulfill your dreams in the US through the immigration process that best suits your current needs. Therefore, do not hesitate to contact Motion Law Immigration, schedule a FREE Consultation and follow the advice of our expert immigration attorneys, who have vast experience with all kinds of immigration cases and will surely know which is the best alternative for your particular case.
Simply call Motion Law today at: (202) 918-1799.