Biden's DHS Withdraws Trump's Rule on International Students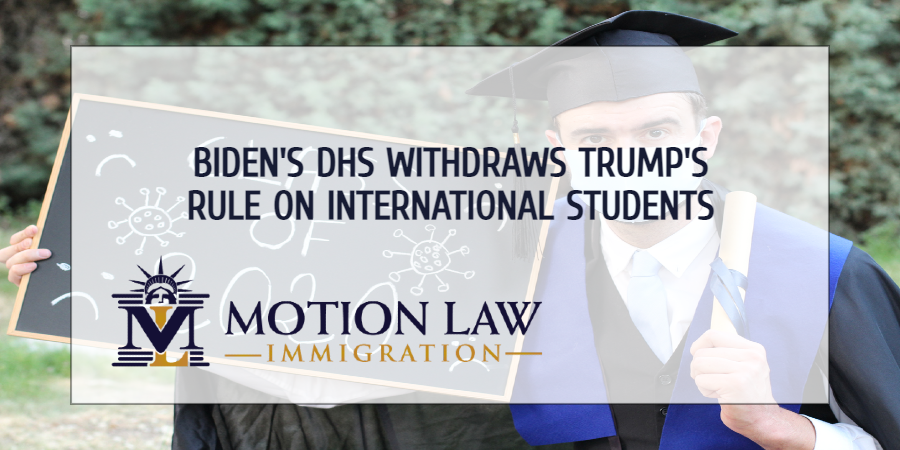 The Biden administration withdraws limitation on international students
On Tuesday, July 6, 2021, Biden's DHS (Department of Homeland Security) withdrew a rule proposed by the Trump administration, which would substantially hinder the visa process for international students and other qualified foreigners.
What was Trump's proposal about?
In September 2020, the Trump administration published an NPRM (Notice of Proposed Rulemaking) in the Federal Register, which proposed issuing student visas with a fixed time period instead of duration of status.
To better understand the issue at hand, it is important to clarify that, currently, the USCIS (US Citizenship and Immigration Services) grants student visas under duration of status so that foreigners can remain in the country until they complete their studies, which means that their visas or permits do not have an expiration date.
Under the Trump administration's rule, the USCIS would no longer issue student visas with duration of status, but with a fixed time period of 2 years, with the possibility of extension up to 4 years. According to Trump's proposal, this rule would include F, J and I visas for foreign students, exchange students and foreign journalists respectively.
Important fact:
According to Trump's NPRM, this rule would apply only to countries on the "State Department's State Sponsors Terrorism List", that is, 59 countries.
Why did DHS withdraw this rule?
Biden's DHS published its withdrawal in the Federal Register, explaining that this rule is against the interest of the current administration and the US as an immigrant nation.
Adding to that, DHS stated that Trump's NPRM received more than 32,000 comments during the 30-day period available for the public to submit their views on the proposal and "More than 99 percent of commenters opposed the proposed rule with many commenters specifically requesting that DHS withdraw the NPRM".
The Biden administration also explained that officially implementing such a rule could prevent international students from successfully completing their studies in the US and losing job opportunities if their applications are not adjudicated on time.
Do you need help with an immigration case of any kind? Feel free to Contact Motion Law Immigration, schedule a FREE Consultation and follow the advice of our experienced attorneys.
DHS is not the first entity to criticize this rule
It is worth mentioning that DHS is not the first entity to reject the implementation of Trump's proposed rule. In fact, several organizations and experts also commented on this rule right after the Trump administration published the NPRM in the Federal Register.
Let's see some examples:
In late September 2020, the NFAP (National Foundation for American Policy) conducted a comprehensive investigation regarding Trump's proposal, which revealed that, to implement this rule, Trump's DHS would use an outdated database. Therefore, "punishing" international students with flawed tools would be, ultimately, a disadvantage for the country.
In October 2020, an expert on the subject stated that the Trump administration's rule would tremendously affect the education sector since, in most cases, students in general (foreign and local) finish their studies in a period of four years and four months. It means that the fixed time period proposed by Trump would not even allow foreigners to complete their studies.
The local immigration system is currently saturated and forcing foreign students to apply for a visa extension in the middle of their studies would be another burden for the USCIS employees, which would lengthen waiting times even more.
This is the best time to start your immigration process. Our team is here to help you!
If you have any questions about an immigration issue or relating to a case you may have currently in progress, then please don't hesitate to contact us for a FREE Phone Consultation with one of our expert immigration attorneys.
Simply call Motion Law today at: (202) 918-1799.