The US and Cuba Make Progress on Immigration Talks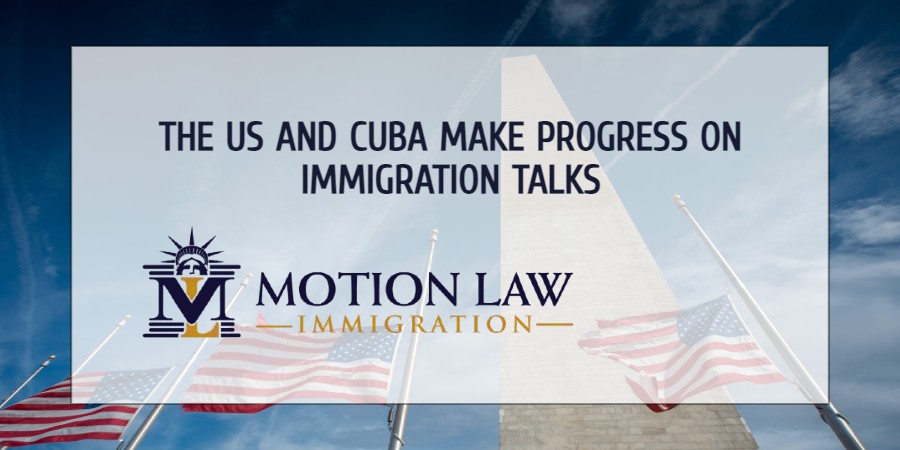 Progress in discussions between the US and Cuba
After weeks of talks, the US and Cuba are finally reaching agreements on immigration and how to handle the wave of migrants from the island, which has not happened in decades.
We want to provide you with constant accompaniment during your immigration process and help you build the future you want and deserve in the US. Contact Motion Law Immigration and follow the advice of our experienced attorneys, regardless of whether you need help starting an immigration process from scratch, if you need to apply for your legal documentation or if you have a pending process.
Changes during the Coronavirus Pandemic
During the global Coronavirus pandemic, the US paused flights of undocumented migrants to Cuba, stating that it could be a means of mass spread of the virus.
However, after exhaustive talks, the Biden administration announced that Cuba will begin receiving flights from the US again in a regional attempt to address the massive irregular migration to the north of the continent.
Leaving aside immigration and all that it implies, it is important to mention that these discussions have also brought together two nations that have been in the midst of political tension for decades, which in itself is a breakthrough.
As multiple immigration processes have changed over the past few years, the best recommendation and decision when starting your immigration journey in the US or completing a pending process is undoubtedly to seek reliable help from experts who have the necessary and appropriate tools to lead you towards the success of your immigration application. Contact Motion Law Immigration, schedule a FREE Consultation and follow the advice of our experienced attorneys!
Give yourself the opportunity to have a smooth immigration journey
Irregular migration will always be controversial in any society, and the US is no exception – that's a fact. However, if you adhere to legal protocols and follow the laws to the letter, you shouldn't have any major problems during your immigration process.
On top of that, it is also important that you understand, however slightly, how the local immigration system works so that you can assertively choose the program that best suits your particular case and have a smooth and manageable process.
The success of your immigration process could be just a phone call away. Feel free to Contact Motion Law Immigration and ask for your FREE consultation with our expert attorneys, who have vast experience when it comes to all kinds of immigration processes, from business and family immigration, to humanitarian programs – they have surely helped many people in the same situation as you.
We are here to guide you every step of the way
We want to help you fulfill your dreams in the US through the immigration process that best suits your current needs. Therefore, do not hesitate to contact Motion Law Immigration, schedule a FREE Consultation and follow the advice of our expert immigration attorneys, who have vast experience with all kinds of immigration cases and will surely know which is the best alternative for your particular case.
Simply call Motion Law today at: (202) 918-1799.