Immigration News Wednesday 23rd November 2022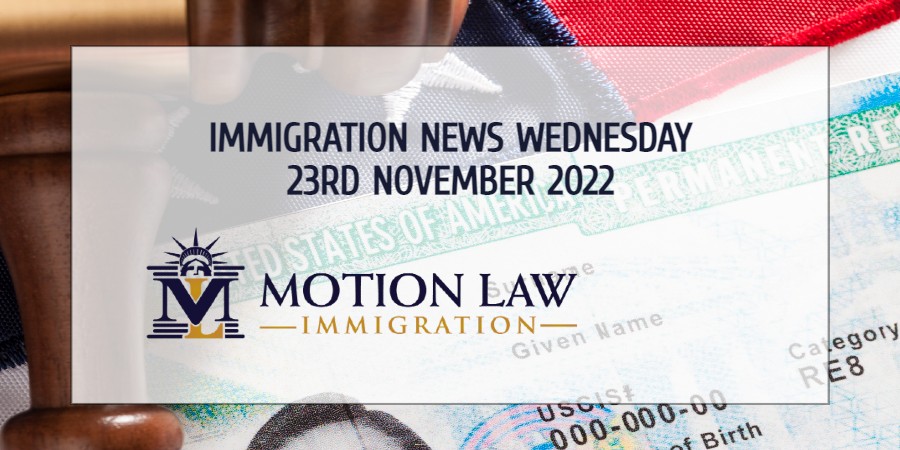 Your Summary of Immigration News for November 23, 2022
The best recommendation when starting your immigration journey in the US is undoubtedly to follow the advice of experts on immigration matters, who are not only up to date with current policies, but will also guide you through every step of the way, answer any questions you may have when you need it, and lead you towards the success of your application, always respecting local law.
Motion Law's team has vast experience when it comes to all kinds of immigration processes. Don't think twice, Contact Motion Law Immigration today and schedule a FREE Consultation!
Other than that, here is the immigration news recap for Wednesday, November 23, 2022:
Biden's plan could lead to immigration reform
Biden's migrant sponsorship plan could show a viable path to comprehensive immigration reform in Congress. To learn more about this news, click here.
Progress in discussions between the US and Cuba
After weeks of talks, the US and Cuba are finally reaching agreements on immigration and how to handle the wave of migrants from the island, which has not happened in decades. To learn more about this news, click here.
Professionals in STEM fields, an essential role
The current situation and acute labor shortages in the US make it clear that foreign nationals in STEM fields are absolutely essential to the national economy. To learn more about this news, click here.
In other news…
The golden gateway to the US
A recent poll reveals that the American population supports the idea of expanding immigration programs for foreign workers. To learn more about this news, click here.
States call for upholding Title 42
Several conservative-leaning states are asking a federal judge to keep Title 42 active. To learn more about this news, click here.
Current situation will lead to immigration reform
The current situation and worker shortage will ultimately lead to urgent and necessary immigration reform. To learn more about this news, click here.
This is the best day to start your immigration process
We want to help you fulfill your dreams in the US through the immigration process that best suits your current needs. Therefore, do not hesitate to contact Motion Law Immigration, schedule a FREE Consultation and follow the advice of our expert immigration attorneys, who have vast experience with all kinds of immigration cases and will surely know which is the best alternative for your particular case.
Simply call Motion Law today at: (202) 918-1799.