Educational Institutions Celebrate Biden's Decision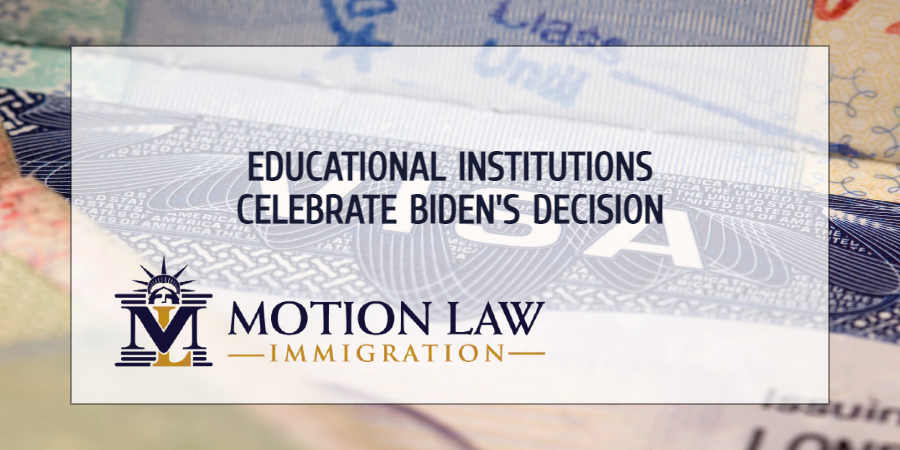 Biden withdraws rule on international students
In September 2020, former President Donald Trump's administration proposed issuing student visas under fixed time period, like most visas in the US. To understand the issue at hand, it is important to explain that most student visas are currently issued under duration of status, which means that foreign students can reside in the country until they complete their studies, without expiration date or the need to renew their visas.
When proposing this change, the Trump administration explained that international students often take advantage of this benefit to remain in the US after completing their studies. It is worth mentioning that this rule would apply only to 59 countries, those included in the "State Department's State Sponsors Terrorism List". Adding to that, programs affected by this policy would be the F, J and I Visas for foreign students, exchange students and foreign journalists respectively.
However, the current administration of the US, with President Joe Biden leading since January 2021, disagrees with most policies, rules and restrictions implemented by the Trump administration on immigration in general, which , in its opinion, affected even more the already long broken immigration system.
Therefore, regarding Trump's September proposal, the Biden administration withdrew this rule on July 6, 2021, stating that it would tremendously affect local educational institutions, the national economy, the education sector in general, and, clearly, foreign students. Other than that, Biden's DHS (Department of Homeland Security) stated that this rule is against the values ​​of the US.
Education sector welcomes the DHS decision
Several educational institutions, mainly recognized universities and even the Association of International Educators (NAFSA), have welcomed, applauded and celebrated Biden's DHS decision to withdraw Trump's rule that would set validity periods for certain student visas.
Under Trump's proposal, the USCIS (US Citizenship and Immigration Services) would issue study permits for two years, with the possibility of extension for up to four years. Since most students, both local and foreign, usually complete their higher education in a period longer than four years, Trump's rule would possibly not even allow international students to successfully complete their studies.
Therefore, if Trump's rule had been officially implemented, it would possibly decrease the number of foreign students enrolled in local educational institutions annually and make the US unattractive to young international talent.
Educational institutions celebrate the DHS decision because the presence of international students brings multiple benefits. On the one hand, foreigners bring innovation, integration and dedication and are essential for important sectors such as science, technology and engineering. On the other hand, the economic stability of universities and colleges in the US also depends largely on foreign students because their substantial investment allows them to improve infrastructure, the quality of education and offer subsidies and discounts to local students.
This is the best time to start your immigration journey!
It is no secret that starting an immigration process in the US is not always the easiest task. However, our team of experts really simplifies the process for you and can provide constant accompaniment during your immigration journey. Please don't hesitate to contact us for a FREE Phone Consultation with one of our expert immigration attorneys.
Simply call Motion Law today at: (202) 918-1799.