US Embassy Spokesman Comments on International Students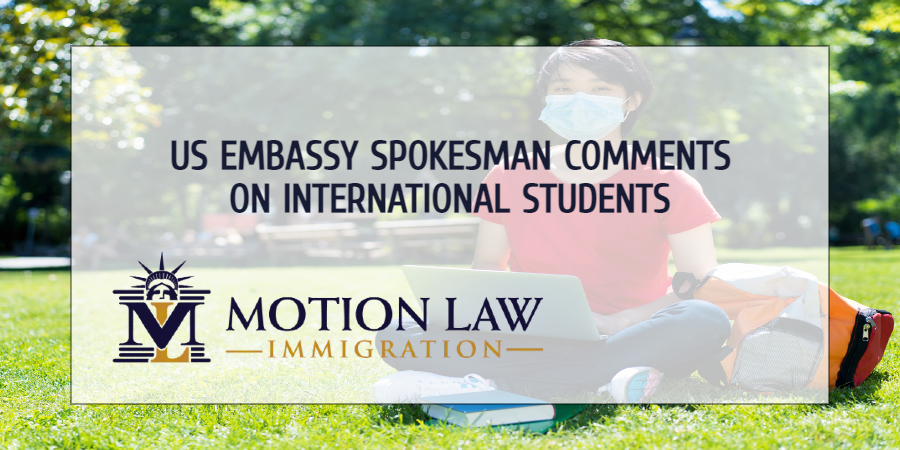 China asks Biden to relax student visas restrictions
It is quite clear that former President Donald Trump always intended to reduce legal immigration levels and curb irregular immigration. Therefore, between 2017 and 2021, his administration pursued multiple action plans aimed at restricting immigration in general and narrowing the alternatives available to all kinds of foreign populations, including the most vulnerable immigrant communities.
One of Trump's main reasons for restricting immigration was related to the US sovereignty and national security. In the previous administration's view, the massive influx of immigrants, especially from certain territories, could become extremely negative and detrimental to the country.
To give a specific example, in mid-2020, Trump signed a Presidential Proclamation banning the issuance of certain visas to students from the People's Republic of China (PRC). The former President explained that, on many occasions, Chinese students posed a threat to the US' intellectual and technological property.
Recently, China's foreign ministry spokesman called on the new administration (Biden-Harris) to lift Trump's restrictions affecting Chinese students.
Do you need help with an immigration case of any kind? Since the US immigration system is quite extensive, the best decision you can make to have a successful immigration process is to seek professional help. Thus, do not hesitate to Contact Motion Law Immigration, schedule a FREE Consultation and follow the advice of our experienced attorneys!
Embassy spokesman in Beijing comments on student visa restrictions
On Thursday, July 8, 2021, the US Embassy spokesman in Beijing commented on current restrictions and the repercussions they create on Chinese students planning to come to North America to complete their higher education.
Regarding the restrictions implemented by Trump, he stated that they are necessary to protect the US' technological property and to prevent China from taking sensitive information to develop its own military intelligence. However, the spokesman also explained that these limitations only affect 2% of Chinese students and exchange visitors.
President Joe Biden and his closest team have not yet commented on the Chinese foreign ministry spokesman's request, although it is clear that his administration plans to continue removing restrictions, rules and limitations implemented by Trump on the local immigration system.
Motion Law Immigration's team will be happy to guide you through your immigration journey in the US and provide constant accompaniment every step of the way. Contact us today and ask for your FREE Consultation with our experienced attorneys!
Take advice from immigration experts!
The last four years have been quite peculiar for the immigration sector due to hundreds of changes made by the Trump administration. Adding to that, the sudden arrival of the global Coronavirus pandemic also contributed to immigration levels dropping considerably in the US.
Therefore, 2021 opens a door of hope for people who planned to come to North America last year but could not due to border restrictions. However, because multiple processes have changed, it is imperative to seek reliable help from immigration experts.
We understand that starting an immigration process requires constant dedication and expert help. Our team is highly qualified to guide you through your immigration journey in the US, so please don't hesitate to contact us for a FREE Phone Consultation with one of our expert immigration attorneys.
Simply call Motion Law today at: (202) 918-1799.