The Diversity Visa Lottery is Now Available for 2022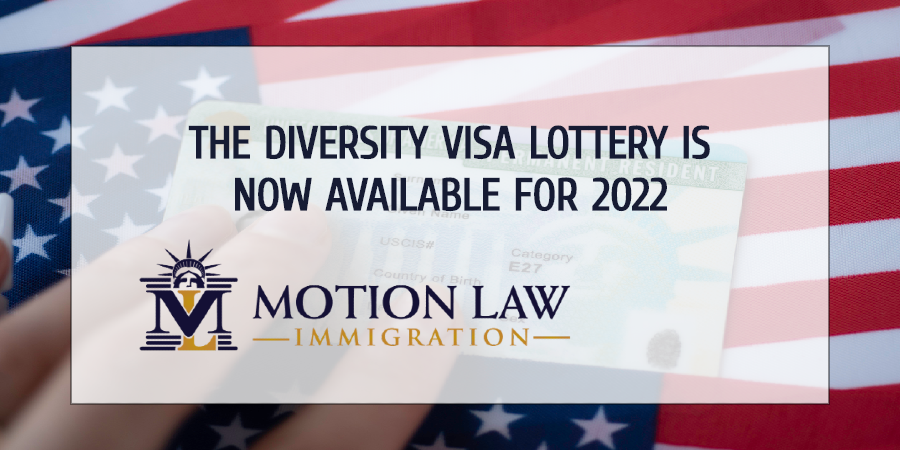 The Diversity Visa Lottery – Brief Explanation
It is well known that the US is the destination for thousands of immigrants, who yearn to build a promising future. The country's immigration system offers multiple options for foreigners to come to gain work experience or complete their higher education.
Adding to that, there are also different programs that allow foreigners to obtain a permanent residence permit or Green Card. One of these programs is the Diversity Visa Lottery.
Annually, the Department of State (DOS) randomly grants around 50,000 permanent residence permits to immigrants from "low admission countries" through the diversity lottery.
It is important to know that in order to participate in the lottery, immigrants do not have to pay any fees and must meet certain mandatory requirements such as having worked for at least two years during the last five years in an occupation that requires that time of experience or having finished high school.
Contact Motion Law if you need help with an immigration case.
The 2022 visa lottery is now available
The DOS has already published the requirements, dates and process that foreigners must follow in order to register in the 2022 diversity visa lottery.
Some of the most important details are:
In order to apply, you must be from a country eligible for this lottery. For 2022, citizens of 19 countries will not be able to participate in the visa lottery due to migration percentage to the US.
Foreigners can submit the online application between October 7 and November 10, 2020.
If foreigners send more than one application, they will be automatically rejected. Each applicant must send only one application.
Applicants can check the results as of May 8, 2021, and winners must submit the required documentation before they can receive the legal permanent residence permit.
This is truly positive news for foreigners who want to come to the US to fulfill their dreams, mainly because the Trump administration does not fully agree with the diversity visa lottery program.
In addition to that, the arrival of the global Coronavirus pandemic modified some immigration processes and there was uncertainty regarding whether the government would allow the lottery the following year or not.
Motion Law keeps you up to date with the latest immigration news.
The help you need for your immigration journey in the US
Aside from keeping you up to date with immigration news, Motion Law's team is highly qualified to guide you through your immigration journey and has surely helped many people in the same situation as you.
Whether you have an immigration case related to family, business, deportation, appeal, residence permit extension, or any other case, our expert attorneys will be able to help you choose the process that best suits your current needs and lead you towards the success of your immigration application.
If you have any questions about an immigration issue or relating to a case you may have currently in progress, then please don't hesitate to contact us for a FREE Phone Consultation with one of our expert immigration attorneys.
Simply call Motion Law today at: (202) 918-1799.