Immigration News Thursday 2nd September 2021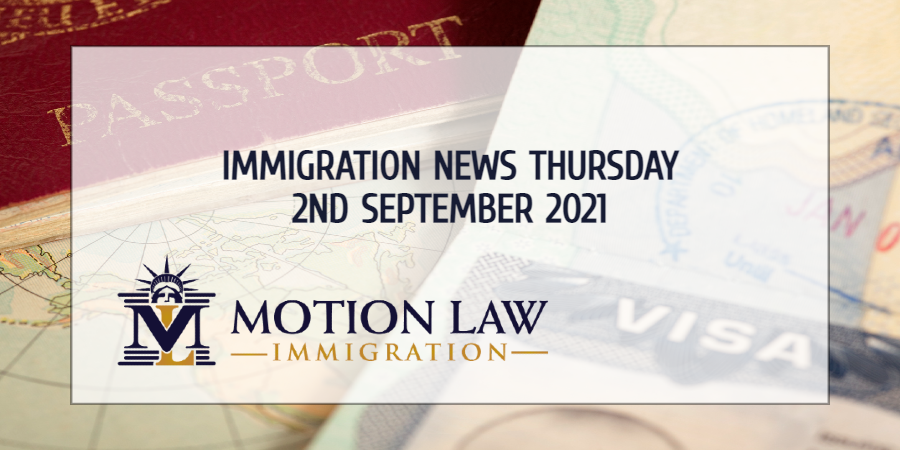 Your Summary of Immigration News in 2nd September 2021
Talking about immigration can be quite a difficult task, especially in a country like the US where there are many immigrant communities and it is a nation that attracts the attention of thousands of foreigners from all over the world. Immigration is a controversial issue primarily because there are many opinions among the local population regarding existing immigration policies, measures, and processes, especially when it comes to irregular immigration and its impact on American society.
Therefore, at Motion Law Immigration we have created a Blog Section that is tailored to your needs so that you stay up to date with the latest immigration news, with simplified and easy-to-process information for your convenience. Keeping up to date with immigration news will allow you to understand more about the local immigration system and make the right decisions during your own process.
Adding to that, feel free to Contact Motion Law Immigration if you have any pending immigration cases, if you are about to start your process from scratch or if you simply have an immigration question. Through a FREE Consultation, you will be able to meet our team and understand that having their constant support is undoubtedly the best alternative for you.
Other than that, here is the immigration news recap for Thursday, September 2, 2021:
The US discusses with Mexico to reimplement the MPP
The Biden administration is currently in discussions with Mexican authorities to seek their approval to reimplement the MPP policy and send asylum seekers temporarily to Mexico again. To learn more about this news, click here.
Analysis: "Remain in Mexico" Program from its Beginning
In 2019, the Trump administration implemented the policy commonly known as "Remain in Mexico", officially called MPP (Migrant Protection Protocols). Through this rule, the Trump administration sent hundreds of thousands of asylum seekers to Mexican territory. To learn more about this news, click here.
Biden should include foreign entrepreneurs in budget package
The Biden administration should use the budget package to create an entrepreneur visa program for foreigners, as long as they meet certain eligibility criteria. To learn more about this news, click here.
In other news…
Experts on the impact of immigration on Science
Several experts will participate in a webinar on the role of immigration in the scientific field, which dates back to even before World War II and represents a pillar for the US' international competitiveness. To learn more about this news, click here.
Families separated at the borders still need support
A recent report by The Washington Post reveals the experiences of immigrant families separated at the borders under the Trump administration and states that these families need something beyond reunification. To learn more about this news, click here.
Art calling for citizenship
An art presentation in Arizona is catching the attention of the American population because it openly supports a path to citizenship for immigrants residing in the US undocumented. To learn more about this news, click here.
Give yourself the opportunity to migrate safely
We want to help you fulfill your dreams in the US through the immigration process that best suits your current needs. Therefore, do not hesitate to contact Motion Law Immigration, schedule a FREE Consultation and follow the advice of our expert immigration attorneys, who have vast experience with all kinds of immigration cases and will surely know which is the best alternative for your particular case.
Simply call Motion Law today at: (202) 918-1799.