Immigration News Thursday 23rd December 2021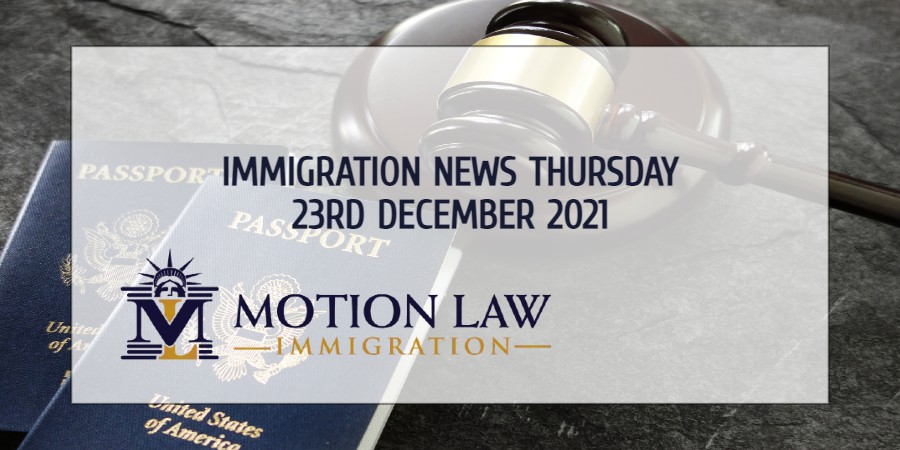 Your Summary of Immigration News in 23rd December, 2021
Choosing the right process for your particular case becomes one of the main requirements to be successful in your immigration process. In other words, of the wide variety of options available to all kinds of foreign communities, it is imperative that you choose the one that suits your current immigration needs.
To alleviate the burden, pressure, and stress of submitting an immigration application on your own, we recommend that you follow expert advice. Thus, do not think twice to Contact Motion Law Immigration and schedule a FREE Consultation with our experienced attorneys, who have surely assisted many people in the same situation as you.
Other than that, here is the immigration news recap for Thursday, December 23, 2021:
Senate Parliamentarian reduces the possibility of immigration reform
The Senate Parliamentarian has rejected three times in a row the immigration language included by Democratic leaders in Biden's spending bill, which was introduced through the budget reconciliation process. To learn more about this news, click here.
Support for immigration reform despite the Senate Parliamentarian's decision
Activists gathered in Chicago to call on Democratic leaders to set aside the Senate Parliamentarian's decision, and move forward with the immigration reform bill. To learn more about this news, click here.
Foreign businessmen speak out on labor shortages
The US economy has been largely affected by the arrival of COVID-19, however, some experts see reduced immigration as another major obstacle to the development of the business sector. To learn more about this news, click here.
In other news…
Immigration remains a controversial issue
A recent survey reveals that immigration continues to be a very controversial sector among the American population, especially when it comes to irregular migration. To learn more about this news, click here.
How did the border situation change in 2021?
A recent report by The Washington Post shows through photos how the border situation has changed in 2021 under Joe Biden's administration. To learn more about this news, click here.
Immigration as a means to boost population growth
During 2021, the US has had the lowest population growth ever reported; immigration could be an effective and simple means to change and boost that number. To learn more about this news, click here.
Are you ready to start your immigration journey soon?
We want to help you fulfill your dreams in the US through the immigration process that best suits your current needs. Therefore, do not hesitate to contact Motion Law Immigration, schedule a FREE Consultation and follow the advice of our expert immigration attorneys, who have vast experience with all kinds of immigration cases and will surely know which is the best alternative for your particular case.
Simply call Motion Law today at: (202) 918-1799.