The US Waives Interviews for Several Visa Programs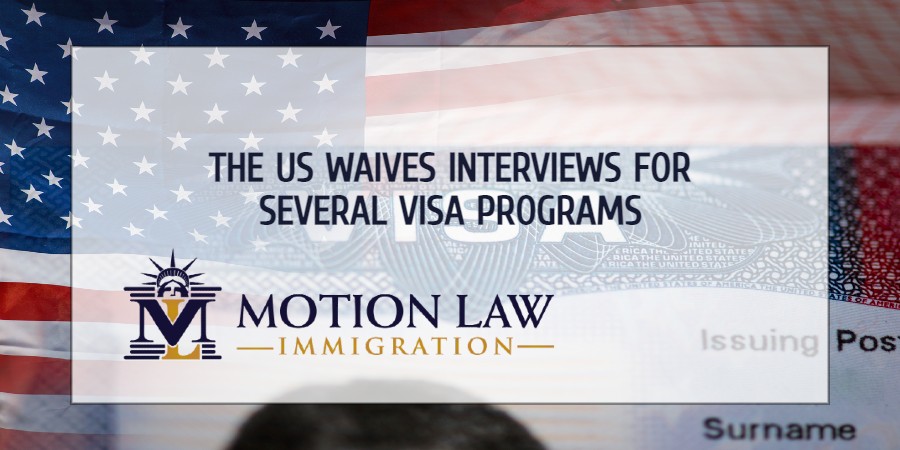 The US temporarily suspends interviews for multiple visas
On Thursday, December 23, the DOS (Department of State) announced that it will temporarily suspend (through 2022) in-person interviews for applicants of certain non-immigrant visas.
The visas involved in the new measure are:
H-1B visa for highly skilled foreign workers in fields such as science and technology. Other H visas such as the H-3 and H-4 visas.
The L-1 visa program for inter-company transfers.
The O-1 visa for foreign nationals with extraordinary abilities.
Other visas such as the P or Q visas.
According to the DOS, exempting non-immigrant visa applicants from face-to-face interviews, which is the last step in obtaining a visa, will help to:
Reduce waiting times for visa applications at US consulates across the world.
Mitigate the impact of the global Coronavirus pandemic among federal employees and applicants, especially now that the new variant called Omicron is spreading uncontrollably.
Do you need help with an immigration process? Our team is highly qualified to provide constant accompaniment during your immigration journey, no matter what your particular case may be. Contact Motion Law Immigration and ask for your FREE Consultation with our experienced attorneys!
What does this mean for local employers?
Hundreds of American or US-based companies are celebrating the DOS decision to exempt certain non-immigrant visas from in-person interviews, especially because it involves visa programs for highly qualified foreign workers.
Given alarming labor shortages across the country, local businesses welcome this news with great hope as it could expedite and optimize the adjudication of legal immigration status for workers from all over the world, who can help fill labor gaps.
You may also be interested in: Report: Highly Skilled Workers Boost the National Economy
If you are looking for professional guidance for an immigration case of any kind, you have found the perfect team for you! Contact Motion Law Immigration, schedule a FREE Consultation and take advice from our experienced attorneys, who have handled all kinds of immigration processes and have surely helped many people in the same situation as you.
Waiting times could decrease for applicants
There is currently an alarming backlog of immigration cases of all kinds resulting from the slowdown in processing amidst the global health crisis and restrictive policies implemented by former President Trump's administration.
Therefore, the DOS's decision to suspend in-person interviews for certain visa programs could possibly streamline the processing of non-immigrant visas and substantially reduce waiting times for both applicants and local companies that benefit from foreign workforce.
Avoid precarious situations and follow legal guidelines when starting your immigration journey in the US, there is surely at least one option that could suit your current needs. Contact Motion Law Immigration and ask for your FREE Consultation with our experienced attorneys.
Do you want to start your immigration process soon, but don't know how?
We want to provide constant guidance during your immigration process and help you build the future you want and deserve in the US.
Contact Motion Law Immigration and follow the advice of our experienced attorneys, regardless of whether you need help starting an immigration process from scratch, if you need to apply for your legal documentation or if you have a pending process.
Meet our team and start your immigration journey today!
It is no secret that starting an immigration process in the US is not always the easiest task. However, our team of experts really simplifies the process for you and can provide constant accompaniment during your immigration journey. Please don't hesitate to contact us for a FREE Phone Consultation with one of our expert immigration attorneys.
Simply call Motion Law today at: (202) 918-1799.