Immigration News Monday 27th December 2021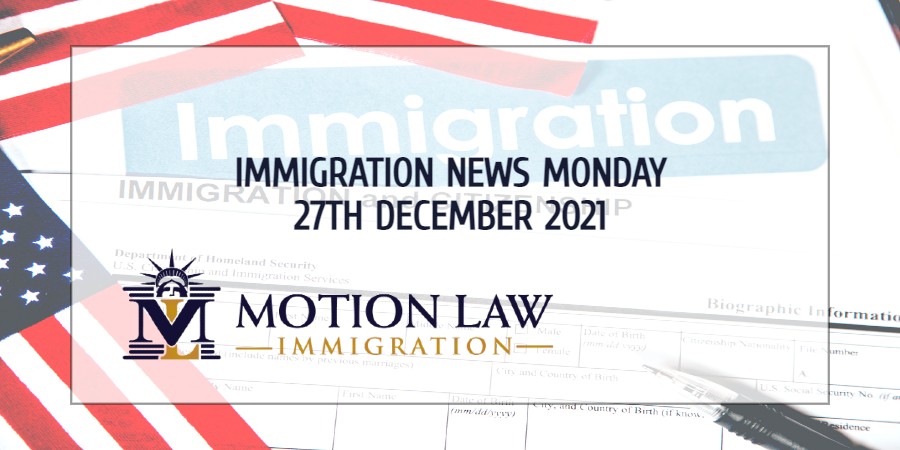 Learn About the Latest Immigration News 12/27/2021
Even though the last comprehensive immigration reform took place 35 years ago, the US immigration system tends to change periodically depending on many influencing factors, especially certain policies and specific processes.
Therefore, because at Motion Law we work for your satisfaction and the success of your immigration application, we have decided to make a daily and weekly summary of the most relevant immigration news, which includes immigration policies, new measures implemented by the Biden administration on the immigration system and the most recent (even slight) changes to existing processes.
Before talking about today's most important immigration news, we also want to extend an invitation for you to Contact our team in case you have any questions regarding an immigration case of any kind. Feel free to schedule your FREE Consultation and follow the advice of our experienced attorneys!
Other than that, here is the immigration news recap for Monday, December 27, 2021:
The US temporarily suspends interviews for multiple visas
On Thursday, December 23, the DOS (Department of State) announced that it will temporarily suspend (through 2022) in-person interviews for applicants of certain non-immigrant visas. To learn more about this news, click here.
Biden has failed to implement substantial changes in immigration laws
One of the main campaign pillars of Joe Biden's administration was related to changing immigration policies, however, some critics believe that his first year in office will end without major changes. To learn more about this news, click here.
Population decline in the US could be a long-term problem
The notorious reduction in the birth rate and the increase in mortality figures could be factors that weaken the country's economy in the long term. Faced with this problem, experts believe that stimulating and encouraging immigration might be a practical solution. To learn more about this news, click here.
In other news…
H-1B visa approval rate increases
The USCIS (US Citizenship and Immigration Services) approved the highest number of H-1B visa applications in a decade during Fiscal Year 2021. To learn more about this news, click here.
Businesses put pressure on Biden
American companies are pressuring the Biden administration to enact immigration reform through the social spending bill. To learn more about this news, click here.
Demand for immigration is growing
A recent study reveals that demand for immigration in important sectors such as education, science and health care has grown significantly. To learn more about this news, click here.
Start your immigration journey today!
We want to help you fulfill your dreams in the US through the immigration process that best suits your current needs. Therefore, do not hesitate to contact Motion Law Immigration, schedule a FREE Consultation and follow the advice of our expert immigration attorneys, who have vast experience with all kinds of immigration cases and will surely know which is the best alternative for your particular case.
Simply call Motion Law today at: (202) 918-1799.