Growing Interest in Investing and Migrating to the US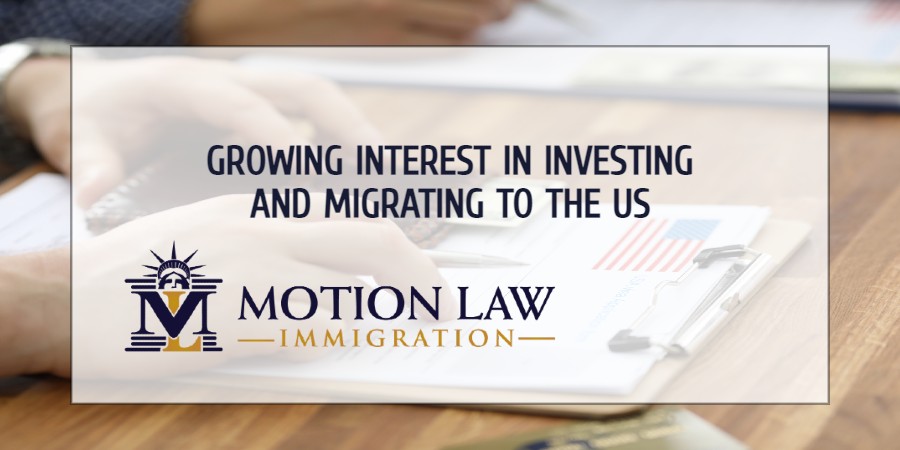 Foreign investors see the US as their destination again
More and more investors and entrepreneurs are finding in the US the option to boost their businesses, taking into account that the number of applications for the EB-5 program has increased.
This is the best time to start your immigration process, always following legal guidelines and expert advice. Contact Motion Law Immigration and ask for your FREE Consultation with our experienced attorneys, who have handled all kinds of immigration processes and have surely assisted many people in the same situation as you.
The EB-5 immigrant investor program
This is a program that seeks to encourage foreign entrepreneurs who wish to invest in economic projects within the US. Among the main requirements to be part of this program are:
Invest a minimum amount of $500,000 in a designated regional center or local fund.
If they do not wish to participate in a local project, foreigners may also apply for this program by making a $1,000,000 investment anywhere in the US.
Contact Motion Law and start your immigration journey in the US through a FREE Consultation with our team.
Benefits of the EB-5 Program
Foreign investors who are part of this program have the ability to shorten the path to apply for legal permanent residency (Green Card), as well as submit an application for their immediate family members or dependents (under certain specific conditions).
Need help with an immigration process? Our team is highly qualified to provide constant accompaniment during your immigration journey, regardless of what your particular case may be. Contact Motion Law Immigration and ask for your FREE Consultation with our experienced attorneys!
Increase in EB-5 visa applications
Many people who were hesitant about investing before the pandemic have made the decision to get their life plans in the US off the ground.
In a recent publication by News Nation, they mention some of the reasons why the number of EB-5 visa applications has increased and why the US is a country in which to invest. Among the factors to highlight are:
The US economy is considered one of the most stable in the world, taking into account indexes such as the GDP (Gross Domestic Product), positioned as one of the leading countries in the global economy.
In terms of education, the country has several of the most prestigious universities in the world, which in turn provides the highest level of professional training.
The healthcare system is characterized as one of the best in the world, with the highest number of hospitals recognized for their innovation, research, financing and prestige, as well as some of the most renowned pharmaceutical companies.
After a year as peculiar as 2020 and in the midst of a gigantic immigration-related controversy, this is still the right time to start your immigration journey in the US. Contact Motion Law Immigration and ask for your FREE Consultation with our experienced attorneys!
We invite you to follow experts' recommendation for your visa application
This program was recently renewed, so, if you are interested in making an application to be part of the benefits of this foreign investor program, we invite you to schedule a free consultation with our expert attorneys, who will resolve any doubts and provide the best advice during your process to travel to the US and grow your business, or if you need help with any other immigration process.
Don't risk your future by not following the legal guidelines established by the US immigration system or by lack of information, contact Motion Law Immigration, schedule a FREE Consultation and follow the advice of our experienced attorneys!
Our team has vast experience when it comes to all kinds of immigration proceedings
We understand that starting an immigration process requires constant dedication and expert help. Our team is highly qualified to guide you through your immigration journey in the US, so please don't hesitate to contact us for a FREE Phone Consultation with one of our expert immigration attorneys.
Simply call Motion Law today at: (202) 918-1799.