Bill to Strengthen the Health System with Foreign Professionals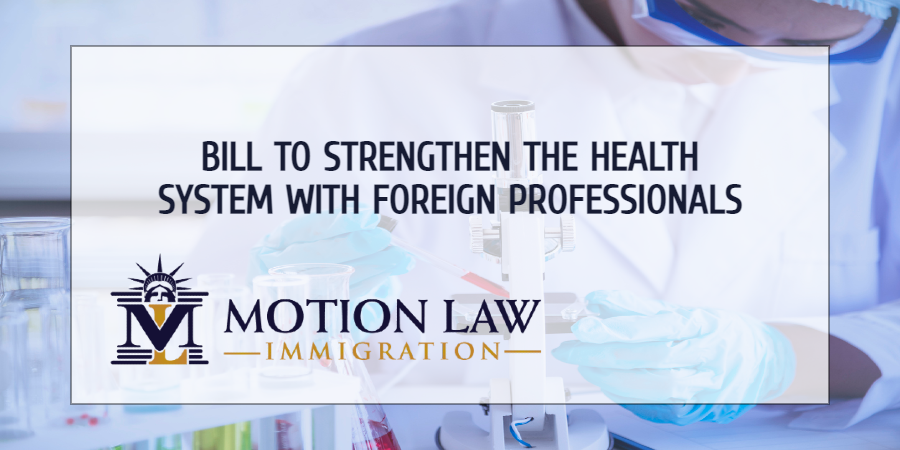 Foreign workers are essential to the health system
According to official figures from the MPI (Migration Policy Institute), about 29% of physicians in the US are foreign workers and 38% of home health aides are also professionals who come from different countries. This is quite a high figure considering that the US has had a skilled workforce shortage in the healthcare system during the past few decades.
The situation worsened for the local health sector when the global Coronavirus pandemic reached the North American territory. At that time, the need to attract talent from abroad (highly qualified professionals) to fill the gaps in a saturated health system became evident and clear.
In fact, foreign workers are not only important to strengthen the healthcare system and ease the workload for American workers, but they are also essential to provide specialized assistance to local patients and to participate in research projects related to health and medicine in general.
Do you need help with a Business Immigration Case? Our team can help you. Adding to that, if you need help with any other immigration process, feel free to contact Motion Law Immigration, schedule a FREE Consultation, and follow the advice of our experienced attorneys.
Bill could benefit foreign professionals and the health system
There is currently a bill under congressional review called "Healthcare Workforce Resilience Act", which, if passed, would allow eligible foreign workers to provide their services in the health system without the need to extend their visas or go through difficult processes.
In fact, under this legislation, 40,000 foreign medical professionals would have the opportunity to obtain lawful permanent residence. In this way, Congress would help fill the gaps and reduce the skilled workforce shortage in the healthcare system by exempting eligible foreign workers from visa processes, which can be quite long and burdensome.
If you need professional guidance for an immigration case, Motion Law's team can help you. Contact us today, schedule a FREE Consultation and follow the advice of our attorneys, who have vast experience when it comes to all kinds of immigration processes!
The US must expedite visa processes for foreign health workers
The immigration bill currently under congressional review is quite hopeful for thousands of foreign workers and could greatly benefit the local healthcare system amid an unprecedented global emergency.
However, the US also needs to improve the immigration system in general to streamline visa processes and reduce the backlog of immigration cases in order to help professionals in all sorts of sectors, apart from the healthcare sector, to come to the country in a simpler, easier and more effective way.
In fact, thousands of foreign health professionals feared deportation despite being the front line in the battle against COVID-19 in 2020 because immigration processes were considerably delayed and they had to go through risky situations. Thus, now is the time for the Biden administration to come up with a strategy to reward the hard work of the heroes of our time, regardless of whether they are foreigners or not.
The best alternative is to seek reliable help for your immigration case
If you, a family member, or a friend need help with an immigration case, please contact Motion Law today to schedule a FREE Consultation with one of our expert immigration attorneys. Our team will be happy to guide you through your immigration journey in the US.
Please contact Motion Law Immigration today at: (202) 918-1799.