USCIS Offices are Temporarily Closed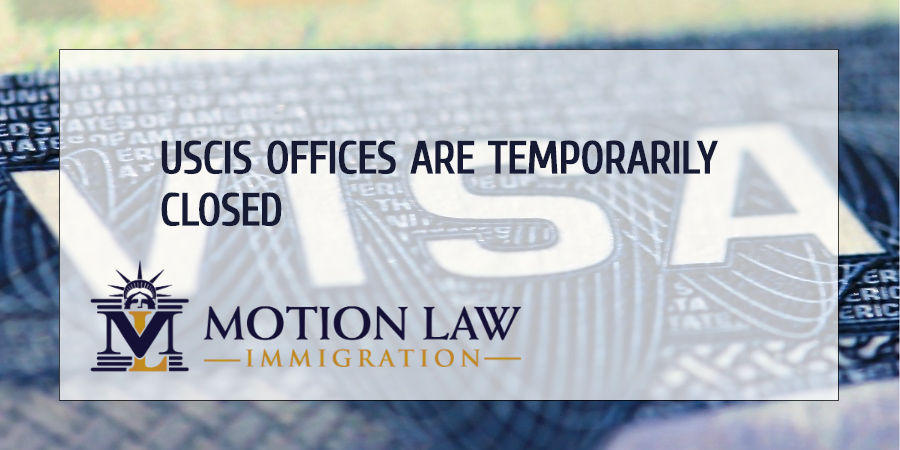 The arrival of the Coronavirus caused the US Citizenship and Immigration Service (USCIS) to close its offices for period of time.
USCIS decision
Given the global pandemic we are currently facing, USCIS decided to temporarily close its offices.
The office closing period is from March 18 to April 1, with possible changes depending on the circumstances.
All face-to-face services are suspended to prevent the spread of the COVID-19 virus.
This means that Asylum Offices and Application Support Centers (ASCs) will be closed at least until April.
Their services will be limited for now, however, if you need any emergency support you may contact the USCIS Contact Center.
How will it work from now on?
USCIS will send notifications to all of its clients with details of changes in appointment scheduling.
All applications and requests will be paused for now if they require a face-to-face meeting.
Immigrants in citizenship process will receive a letter in the mail indicating the new appointment dates established.
What is the importance of this decision?
Precautionary measures are being tested by the most affected countries, including the US because this is an emergency situation we didn't expect.
The spread of the Coronavirus is out of proportion at this time, therefore all government entities are taking emergency measures to prevent conglomerations.
Public places are mostly restricted to avoid massive contagion.
The most important thing right now is to keep the community safe at home, take care of the health of the most vulnerable and support each other to overcome this crisis with the best possible result.
The impact of this measure
Clearly, immigration processes will be behind in response times.
However, this does not prevent requests and applications from being accepted virtually.
The government has discussed the possibility of doing video call interviews, which may be a solution.
Immigrants must not despair and the most important thing in times of crisis is to stay calm and find alternatives and resources to continue everything as normal as possible.
Requests are received normally by Immigration Agencies, however, the only noticeable impact is that responses may take a little longer.
MOTION LAW
At Motion Law we are prepared to face the current situation with the Coronavirus.
We have attorneys fully experienced in immigration processes for the US.
Like USCIS, we have taken emergency measures and all cases will be handled by phone.
You can contact us by phone for a FREE Consultation with specialized immigration attorneys.
Due to the current situation, we will fulfill all the relevant requirements virtually and we will contact the gubernamental entities virtually as well.
However, we want to reassure to our clients that they have our full support.
Regardless of the circumstances, Motion Law continues with the premise of advising anyone with immigration concerns.
Therefore, if you have any questions about an immigration issue or relating to a case you may have currently in Progress, then please don't hesitate to contact us for a FREE Phone Consultation with one of our expert immigration attorneys.
Simply call Motion Law today at: (202) 918-1799