USCIS Expands Employment Authorization for Victims of Crime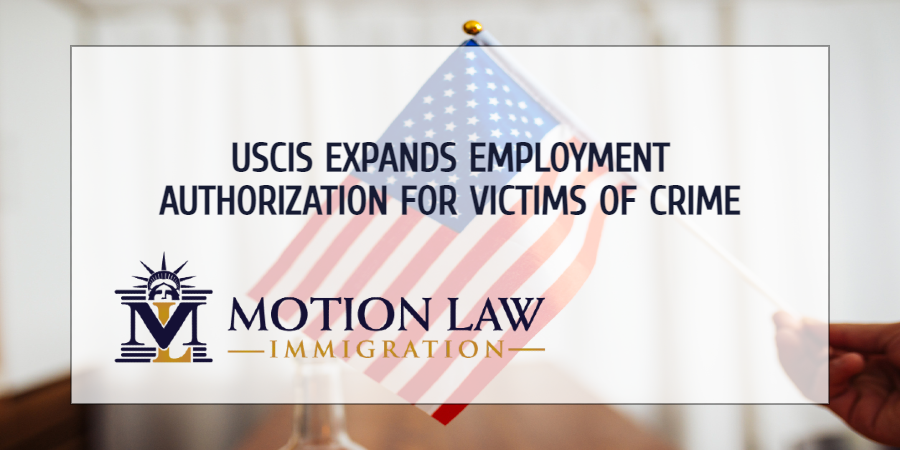 U Visa – Victims of Crime
It is no secret that the presence of immigrants has always been part of the US' culture. In fact, the local immigration system is quite extensive and offers a wide variety of options for all kinds of foreign populations. Adding to that, apart from benefiting from the presence of qualified foreigners and their economic contribution, the country also has the necessary resources to offer international protection and legality options to people who need it most.
For instance, the US immigration system has a visa program that grants U nonimmigrant status, which is available to foreigners who have been victims of qualified crimes or criminal activity within the country (or which violate local law) and who are willing to cooperate with local authorities during the investigation of such criminal activity.
Other than that, it is important to clarify that, in order for a non-citizen to apply for a U visa and receive this non-immigrant status, they must meet certain eligibility requirements and the US' admissibility parameters.
Are you about to start an immigration process of any kind? Seeking professional help is undoubtedly the best decision to protect your future. Contact Motion Law Immigration, schedule a FREE Consultation and follow the advice of our experienced attorneys!
Benefits for U visa holders
Annually, the USCIS (US Citizenship and Immigration Services) issues a total of 10,000 U visas (for principal petitioners). Once the USCIS grants U nonimmigrant status, the holder of this visa has the possibility to apply for an EAD (Employment Authorization Document) and access other social benefits.
Through the EAD, the U visa holder can legally work in the US and comply with the guidelines established by the local immigration system to contribute to the economy and become part of the American social fabric.
During your immigration journey, follow the advice of our attorneys, who have vast experience with all kinds of immigration processes. Contact us today and schedule a FREE Consultation!
USCIS will issue employment permits for U nonimmigrant status petitioners
On Monday, June 14, 2021, the USCIS published a Policy Alert related to U nonimmigrant status. According to the new guidelines, "Due to drastic increases in the volume of U nonimmigrant petitions (…) USCIS has decided to exercise its discretion under INA 214(p)(6) to conduct bona fide determinations (BFD) and provide EADs and deferred action to noncitizens with pending, bona fide petitions who meet certain discretionary standards".
Before going into detail, it is important to explain that the term Bona Fide comes from Latin and refers to an "act of good faith". In other words, the USCIS will grant BFD EADs to certain U visa applicants, so long as they meet eligibility requirements, and deferred action for 4 years (including eligible family members) while they wait for their original U visa petitions to be adjudicated within the annual limit.
Do you need or want to keep up to date with the latest immigration news? Our Blog Section is what you are looking for.
Are you looking for professional help for your immigration process?
It is well known that starting an immigration process in the US is not always the easiest task. However, our team of experts really simplifies the process for you and can provide constant accompaniment during your immigration journey. Please don't hesitate to contact us for a FREE Phone Consultation with one of our expert immigration attorneys.
Simply call Motion Law today at: (202) 918-1799.