The USCIS Suspends Certain Requirements for H-4 and L-2 Visa Holders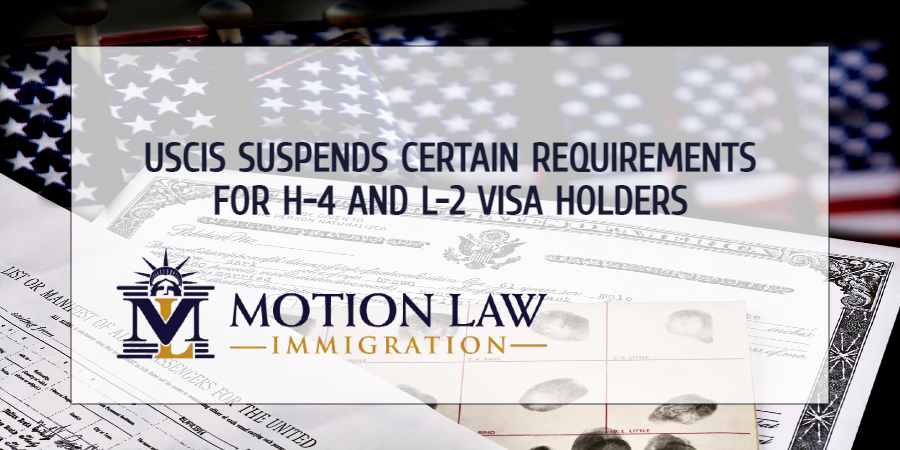 H-4 and L-2 visas
The US immigration system offers family immigration alternatives, which are also related to business immigration. Let's look at two of the most important examples:
H-4 Visa: This legal permit is available to dependent spouses of H-1B visa holders, who are highly qualified foreign workers.
L-2 Visa: This legal permit is available to dependent spouses of L-1 (A-B) visa holders, who are part of intra-company transfer programs.
After entering the US under this legal process, certain eligible H-4 and L-2 visa holders have the opportunity to apply for an employment authorization permit to be part of the social fabric and boost the economy in sectors other than science or technology, which are essentially a minority and need to grow with the help of foreign workforce.
You may also be interested in: Family and Business Immigration are Strongly Connected
Do you need help to renew your visa in the US or start a process from scratch? Motion Law's team is highly qualified to guide you through your immigration journey. Contact us today and ask for your FREE Consultation with our experienced attorneys!
The USCIS suspends biometric requirements to renew H-4 and L-2 visas
The USCIS (US Citizenship and Immigration Services), which is a branch of the DHS (Department of Homeland Security), announced on Monday, May 3, that it will suspend fingerprint update requirements to renew H-4 and L-2 visas for two years, starting May 17.
To understand the issue at hand, it is important to clarify that, in 2019, the Donald Trump administration implemented this rule, which stated that H-4 and L-2 visa holders had to update biometric data, more specifically their fingerprints, in order to renew their permits.
However, this restriction disproportionately increased waiting times and many H-4 and L-2 visa holders lost their jobs, even amid the health crisis. In fact, the global Coronavirus pandemic contributed to the current backlog of immigration cases, which also lengthened wait times for applicants, leaving them in limbo.
Adding to that, the reason why thousands of H-4 and L-2 visa holders have lost job opportunities or have had to work without documentation for a period of time is because they can request their permits' renewal up to 6 months before expiration, but the current waiting time is approximately 11 months. This was not the case before, the USCIS was able to respond in a timely manner, but Trump's restrictions and the sanitary emergency affected these workers, who also contribute to the local economic system.
Thus, the USCIS decision will undoubtedly help expedite pending processes and reduce the backlog of immigration cases, benefiting applicants such as H-4 and L-2 visa holders who need to renew their employment permits.
Visit our Blog Section to keep up to date with the latest immigration news.
It is important to follow the advice of immigration experts
Now that the Biden administration is removing certain restrictive policies, it is undoubtedly the best time to start your immigration process. However, because many existing processes have recently changed, it is also important to follow expert advice during your process.
If you, a family member, or a friend need help with an immigration case, please contact Motion Law today to schedule a FREE Consultation with one of our expert immigration attorneys. Our team will be happy to guide you through your immigration journey in the US.
Please contact Motion Law Immigration today at: (202) 918-1799.