Immigration News Wednesday 24th November 2021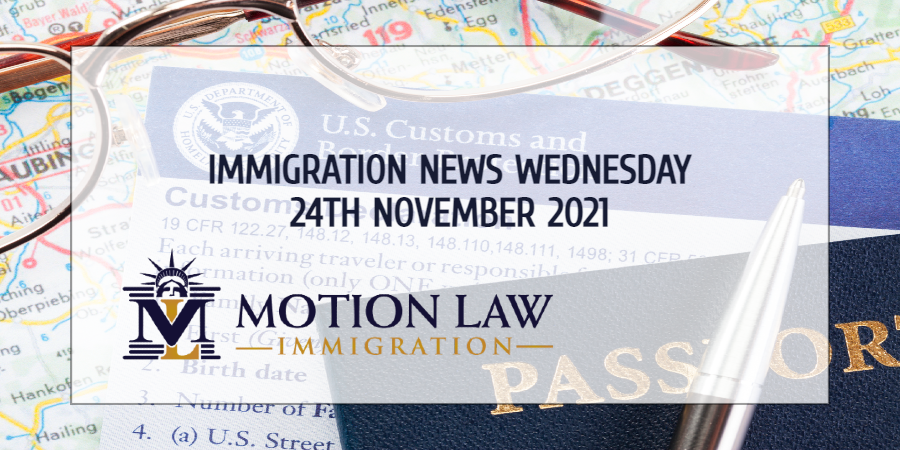 Immigration News Recap 24th November 2021
In a world that is constantly changing thanks to globalization and technology, most important sectors of society, if not all, are also constantly transforming and adapting to new environments and tools. Immigration is no exception.
In the case of the US, a nation that receives thousands of foreigners annually, local policies are undergoing a rather prominent series of changes due to multiple factors. Therefore, it is important for you to keep up to date with the latest immigration news for the benefit of your own immigration process and for you to follow the advice of reliable experts.
Motion Law Immigration's team can help you. Visit our Blog Section regularly and, adding to that, don't miss your chance to schedule a FREE Consultation with our experienced attorneys, who have assisted people with all kinds of immigration processes.
Other than that, here is the immigration news recap for Wednesday, November 24, 2021:
Senate Parliamentarian likely to accept immigration language this time around
According to sources close to the discussions, the Senate Parliamentarian met with Democratic leaders on Tuesday, November 23 and, for the first time since Biden's budget package was introduced, did not immediately reject the immigration language. To learn more about this news, click here.
House Democrats ask to expand immigration provisions
On Monday, November 22, a group of 91 House Democrats sent a letter to Democratic members in the Senate, asking them to expand the immigration provisions included in Biden's budget package. To learn more about this news, click here.
International workers affected by global health crisis
A recent report, created by two experts in the field, reveals that foreign workers have been tremendously affected by the health crisis caused by the global Coronavirus pandemic. To learn more about this news, click here.
In other news…
Senators must decide on immigration reform
According to the opinion of an expert on the subject, even if the Senate Parliamentarian decides to reject the third immigration proposal of the Democratic leaders in Biden's spending bill, the members of the Senate still have the last word. To learn more about this news, click here.
Delays in immigration processing will worsen local situation
It is no secret that the US is experiencing alarming labor shortages. Adding to that, delays in business immigration processes could worsen the situation for local companies in the short and medium term. To learn more about this news, click here.
Weak economy is what fuels irregular migration
According to a recent study, economic instability in certain neighboring nations is at the root of hundreds of thousands of people choosing to enter the US without legal documentation. To learn more about this news, click here.
Thinking about starting your immigration journey soon?
We want to help you fulfill your dreams in the US through the immigration process that best suits your current needs. Therefore, do not hesitate to contact Motion Law Immigration, schedule a FREE Consultation and follow the advice of our expert immigration attorneys, who have vast experience with all kinds of immigration cases and will surely know which is the best alternative for your particular case.
Simply call Motion Law today at: (202) 918-1799.