How Did the Last Immigration Reform Take Place?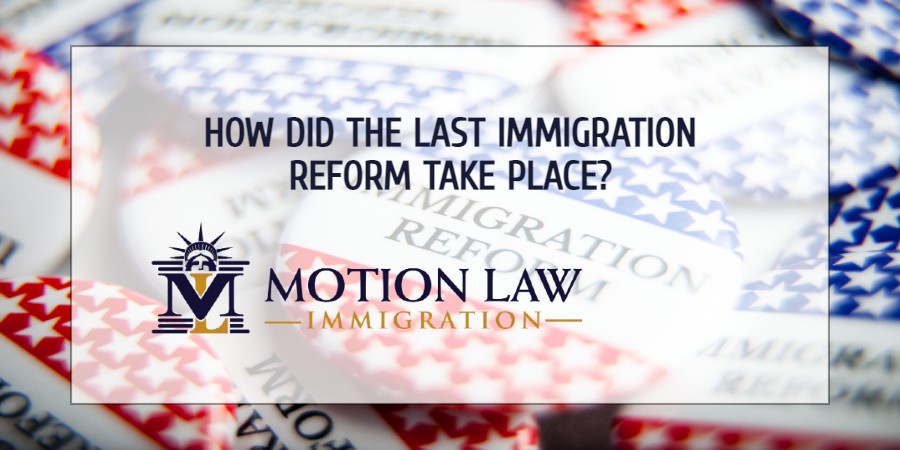 The parameters of the last immigration reform in Congress
A recent analysis reveals what was key to Congress passing the last comprehensive immigration reform, which took place in the mid-1980s, more than 35 years ago.
According to the analysis, the immigration bill called IRCA (Immigration Reform and Control Act) included a section on:
Immigration law enforcement.
Path to legalization for undocumented immigrants who met certain eligibility criteria.
Streamlining legal immigration processes.
The success of your immigration process could be just a phone call away. Feel free to Contact Motion Law Immigration and ask for your FREE consultation with our expert attorneys, who have vast experience when it comes to all kinds of immigration processes, from business and family immigration, to humanitarian programs – they have surely helped many people in the same situation as you.
History has much to teach
The analysis makes it clear that the parameters included in the IRCA immigration bill cover the exact same controversial issues of today, that is:
The border situation and the high rates of irregular migration currently facing the US.
The imperative need to expedite legal immigration processes to reduce the backlog of applications, especially when it comes to business immigration.
Some type of amnesty or path to legalization for eligible undocumented migrants.
Therefore, the analysis proposes to present an immigration bill that covers all these issues and finally promote a comprehensive immigration reform in Congress after all these decades.
We want to provide you with constant accompaniment during your immigration process and help you build the future you want and deserve in the US. Contact Motion Law Immigration and follow the advice of our experienced attorneys, regardless of whether you need help starting an immigration process from scratch, need to apply for your legal documentation or have a pending process.
Start your immigration journey on the right foot
Any country's immigration system is designed primarily for foreigners to respect immigration laws and regulate who enters and leaves the country, but also for those eligible to succeed in their processes, and that clearly includes the US.
Therefore, if you make the right decisions during your journey and adhere to regular protocols, you should not face any inconvenience.
However, since multiple immigration processes have changed over the past few years, the best recommendation and decision when starting your US immigration journey or completing a pending process is undoubtedly to seek reliable help from experts who have the necessary and appropriate tools to lead you to the success of your immigration application.
Contact Motion Law Immigration, schedule a FREE Consultation and follow the advice of our experienced attorneys!
Give yourself the opportunity to have a smooth immigration journey
We want to help you fulfill your dreams in the US through the immigration process that best suits your current needs. Therefore, do not hesitate to contact Motion Law Immigration, schedule a FREE Consultation and follow the advice of our expert immigration attorneys, who have vast experience with all kinds of immigration cases and will surely know which is the best alternative for your particular case.
Simply call Motion Law today at: (202) 918-1799.