Highest Border Apprehension Rate Ever Recorded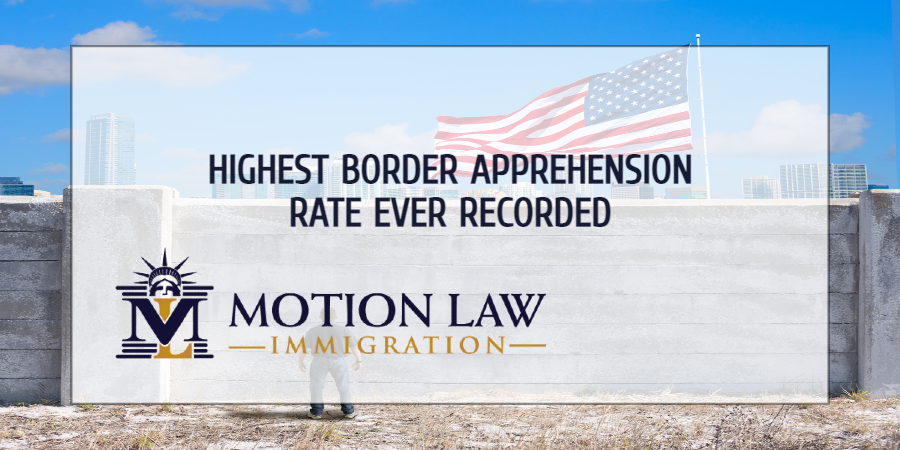 FY 2021: A record number of border encounters
According to data obtained by The Washington Post last week, CBP (Customs and Border Protection) apprehended the highest number of undocumented immigrants in border territory ever recorded during fiscal year (FY) 2021.
CBP is one of the branches of DHS (Department of Homeland Security) in charge of, among many other tasks, protecting the border territory from illegal activity such as irregular migration.
This entity is also in charge of reporting monthly border encounters, which are usually divided between family units, single adults and unaccompanied minors.
It is quite evident that one of the biggest challenges for the Biden administration has been the surge of illegal border crossings and apprehension rates for FY 2021, which ended in September, are evidence of this fact.
Official figures reveal that, from October 2020 through September 2021, CBP apprehended a total of 1'659,206 individuals in border territory and, according to The Washington Post, this is the highest number ever reported.
Are you looking for help with your immigration case? Contact Motion Law Immigration and ask for your FREE Consultation with our experienced attorneys!
Border apprehension rates decreased slightly in September
It is worth mentioning that, despite FY 2021 border apprehension rates being the highest in history, the trend was already declining slightly over the past two months, which means the picture could be different for FY 2022.
Let's look at some important facts:
In August, the number of border encounters decreased by 2.8% compared to July. This figure does not seem to be that high, but considering the exponential increase that had taken place the previous months, it is indeed a considerable progress.
During the first weeks of September, CBP reported a 15.09% decrease in daily border encounters compared to August.
CBP apprehended a total of 192,001 undocumented migrants during the last month of FY 2021 (September), which represents an 8.5% decrease compared to August.
Avoid precarious situations and follow legal guidelines when starting your immigration journey in the US, surely there is at least one option that could suit your current needs. Contact Motion Law Immigration and ask for your FREE Consultation with our experienced attorneys.
The risks of migrating irregularly
Irregular migration will always be in the eye of the storm because it involves the violation of local immigration laws and, naturally, it is a fact that draws the attention of the American public and not necessarily in a positive way.
Aside from being an extremely risky journey, the reality is that irregular migration never brings positive repercussions and could jeopardize the future you long to build in the US.
Therefore, it is extremely important that you follow legal guidelines and organize the necessary documentation to file a solid immigration application.
We want to provide constant guidance throughout your immigration process and help you build the future you want and deserve in the US.
Contact Motion Law Immigration and follow the advice of our experienced attorneys, regardless of whether you need help starting an immigration process from scratch, need to apply for your legal documentation or have a pending process.
Migrate safely, migrate with the help of experts!
If you, a family member, or a friend need help with an immigration case, then feel free to contact Motion Law Immigration today and schedule a FREE Consultation with one of our expert immigration attorneys. Our team will be happy to guide you through your immigration journey in the US.
Please contact Motion Law Immigration today at: (202) 918-1799.