Democrats Face Challenges Over Senate Parliamentary Ruling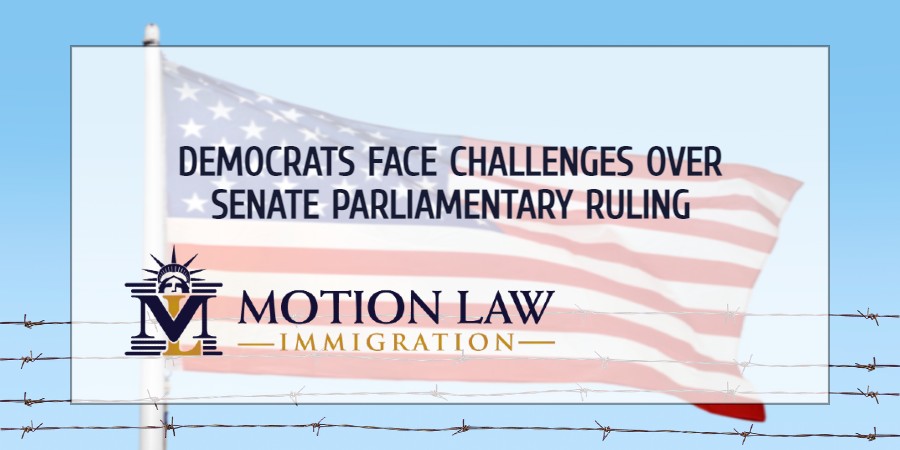 Growing tension after Senate Parliamentarian's ruling
Following the decision of the Senate Parliamentarian, who rejected the possibility of including immigration reform in Biden's Build Back Better agenda, hundreds of undocumented immigrants are now in limbo.
Migrate with the help of experts and avoid precarious or risky situations, Contact Motion Law Immigration and schedule a Free Consultation with our experienced attorneys!
Benefits included in the rejected proposal
This attempt by Democratic leaders, which is the third attempt to include immigration reform in Biden's spending bill, would allow about 7 million undocumented immigrants to obtain temporary legal status.
The proposal that was rejected last December 16 sought to open a path for hundreds of thousands of undocumented immigrant workers, who have been living in the US since before 2010, to remain and work in the country for 5 to 10 years without legal repercussions.
Do you need help with an immigration process? It is important to protect your future by following the advice of immigration experts – Contact Motion Law and follow the advice of our experienced attorneys!
Legal limbo for undocumented immigrants and their families
This was, according to some Democratic leaders, the greatest and possibly only opportunity in years to generate substantive immigration reform that would provide a real alternative for many undocumented immigrants living in constant stress. For instance:
Mixed-status families, composed of American citizen children and at least one undocumented parent, will still have to live in constant fear of deportation.
Beneficiaries of programs such as DACA (Deferred Action for Childhood Arrivals) or TPS (Temporary Protected Status) will not have extended guarantees to remain in the US after the expiration of these temporary benefits.
Despite having an immediate family member who is an American, immigrants won't be able to obtain a Green Card until they have been admitted or have parole status.
If you are looking for professional guidance for an immigration case of any kind, you have found the perfect team for you! Contact Motion Law Immigration, schedule a FREE Consultation and follow the advice of our experienced attorneys, who have handled all kinds of immigration proceedings and have surely helped many people in the same situation as you.
Democrats are running out of options to accomplish their immigration proposals
Given that the mid-term elections will take place in 2022 and, as of now, most national polls show that the Republican Party is likely to win the most seats in the House of Representatives, there may not be another close opportunity for similar immigration reform, coupled with the low likelihood of generating a bipartisan alliance or bypassing the Senate Parliamentarian's ruling.
As multiple immigration processes have changed over the past year, the best recommendation and decision when starting your immigration journey in the US or completing a pending process is undoubtedly to seek reliable help from experts who have the necessary and appropriate tools to lead you towards the success of your immigration application. Contact Motion Law Immigration, schedule a FREE Consultation and follow the advice of our experienced attorneys!
Our team can assist you during your immigration journey in the US
It is no secret that starting an immigration process in the US is not always the easiest task. However, our team of experts really simplifies the process for you and can provide constant accompaniment during your immigration journey. Please don't hesitate to contact us for a FREE Phone Consultation with one of our expert immigration attorneys.
Simply call Motion Law today at: (202) 918-1799.