Border Changes Needed for Immigration Reform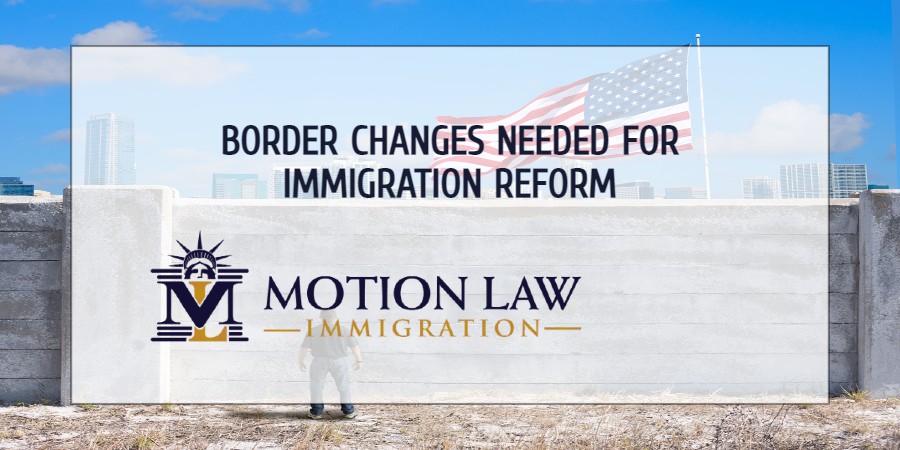 No immigration reform without fixing the border first
Comprehensive immigration reform has been stalled in Congress for decades, and the current border situation significantly diminishes the chances that it will happen during the Biden administration.
In fact, although Biden and his team have tried to push comprehensive immigration reform through Congress by every means possible, from ambitious proposals to separate pieces of legislation, he has not made much progress on this controversial sector, and that is undoubtedly due primarily to the border situation and the high rates of irregular migration.
We want to provide you with constant accompaniment during your immigration process and help you build the future you want and deserve in the US. Contact Motion Law Immigration and follow the advice of our experienced attorneys, regardless of whether you need help starting an immigration process from scratch, if you need to apply for your legal documentation or if you have a pending process.
The argument of dozens of political leaders
Members of both the House and Senate argue that they do not plan to support any immigration reform proposal unless there is significant improvement in the borderlands. That is, the ideal of promoting immigration reform could be stalled until irregular migration numbers decline, and even then it would be uncertain.
To give a specific example, the House of Representatives speaker recently stated, "The first thing to do is to secure the border before immigration reform."
For their part, experts on the issue state that putting the pressure to resolve the border situation on the US government, whatever it may be, is not a realistic request since there are dozens of reasons why migrants leave their homes in search of better opportunities in the northern part of the continent, which have nothing to do with local policies.
The success of your immigration process could be just a phone call away. Feel free to Contact Motion Law Immigration and ask for your FREE consultation with our expert attorneys, who have vast experience when it comes to all kinds of immigration processes, from business and family immigration, to humanitarian programs – they have surely helped many people in the same situation as you.
Are you about to start your immigration process?
As multiple immigration processes have changed over the past few years, the best recommendation and decision when starting your immigration journey in the US or completing a pending process is undoubtedly to seek reliable help from experts who have the necessary and appropriate tools to lead you to the success of your immigration application. Contact Motion Law Immigration, schedule a FREE Consultation and follow the advice of our experienced attorneys!
Protect your future at all costs
We want to help you fulfill your dreams in the US through the immigration process that best suits your current needs. Therefore, do not hesitate to contact Motion Law Immigration, schedule a FREE Consultation and follow the advice of our expert immigration attorneys, who have vast experience with all kinds of immigration cases and will surely know which is the best alternative for your particular case.
Simply call Motion Law today at: (202) 918-1799.