Who is Right About Immigration?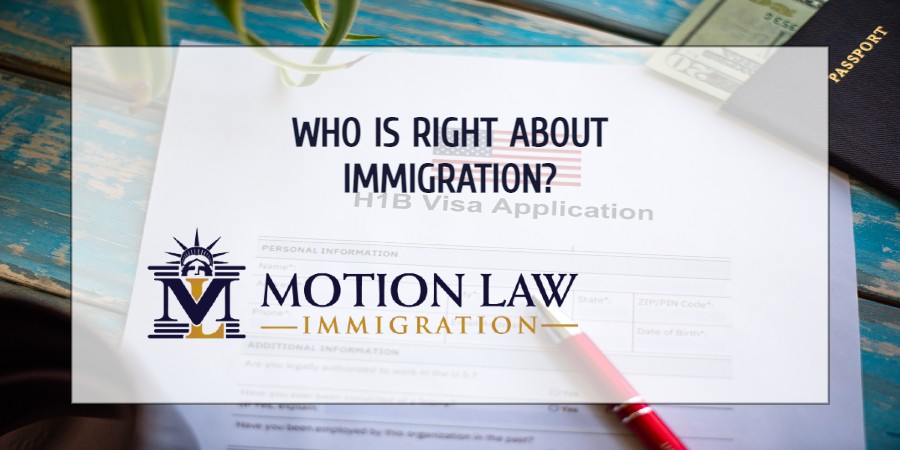 Immigration controversies
A recent report analyzes the two most prominent current controversies regarding the immigration sector, which are sparking a gigantic social discussion.
Let's see what they are about:
The border situation
One of the most controversial issues has to do with the border situation, that is, high rates of irregular migration that currently plague the US and have been increasing for a couple of years now.
Naturally, that situation allows opposition groups and certain political leaders to critizise the Biden administration's immigration ideals and call for restrictive and strict rules in the border territory.
Although that strategy has brought nothing good in the past, it is a message that still has a lot of traction among the American population.
If you are looking for professional guidance for an immigration case of any kind, you have found the perfect team for you! Contact Motion Law Immigration, schedule a FREE Consultation and take the advice of our experienced attorneys, who have handled all kinds of immigration proceedings and have surely helped many people in the same situation as you.
Foreign worker shortages
Aside from the above, American employers such as farmers are urgently calling for a reform to the business immigration system in order to hire foreign workers in a simpler way, considering the alarming labor shortage plaguing the country – not only in sectors like agriculture, but also in industries such as science and technology.
Through years of experience, our team has assisted many people with all kinds of immigration processes, from employment-based or study-based options, to family-based immigration and deportation proceedings. Don't hesitate to Contact Motion Law Immigration and ask for your FREE Consultation with our experienced attorneys!
Is there a way to resolve the situation as a whole?
According to expert opinion, the ideal would be to improve business immigration programs and legal routes so that foreigners who want to come to work have more possibilities without having to cross borders irregularly.
We want to provide you with constant accompaniment during your immigration process and help you build the future you want and deserve in the US. Contact Motion Law Immigration and follow the advice of our experienced attorneys, regardless of whether you need help starting an immigration process from scratch, if you need to apply for your legal documentation or if you have a pending process.
Choose the best option for you
As multiple immigration processes have changed over the past few years, the best recommendation and decision when starting your US immigration journey or completing a pending process is undoubtedly to seek reliable help from experts who have the necessary and appropriate tools to lead you to the success of your immigration application. Contact Motion Law Immigration, schedule a FREE Consultation and follow the advice of our experienced attorneys!
We can guide you every step of the way
It is no secret that starting an immigration process in the US is not always the easiest task. However, our team of experts really simplifies the process for you and can provide constant accompaniment during your immigration journey. Please don't hesitate to contact us for a FREE Phone Consultation with one of our expert immigration attorneys.
Simply call Motion Law today at: (202) 918-1799.