Trump's Administration Plans to Remove H-1B Visa Lottery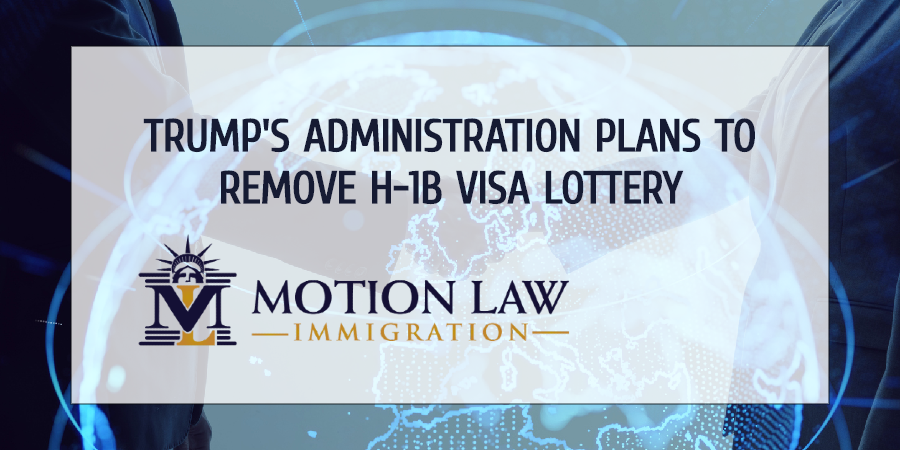 Employment-based visas
Hundreds of American or US-based companies often use alternatives offered by the US Citizenship and Immigration Services (USCIS) to hire highly-skilled foreign workers, who typically specialize in essential areas such as science, technology, medicine and research.
The primary option for skilled foreign workers is the H-1B Visa, which is issued by the USCIS and has an annual limit. With this program, thousands of foreigners can come to gain work experience in the US and many of them also choose to start their own entrepreneurship project, stimulating the economy, creating jobs for the local population, and allowing them to extend their residence in the country.
Do you need help with a Business Immigration Case? Our team can help you.
The current government's opinion regarding business immigration
The Donald Trump administration is one of the few in recent history of the US that does not support business immigration as we know it.
In the opinion of the Trump administration, the current immigration system allows:
Local companies to abuse business immigration.
Foreign workers to find work first than American workers.
Local companies to offer lower wages to foreign workers, excluding local workers.
Therefore, because one of the ideals of the current government is to protect local employment and American workers in order to reduce unemployment rate, which increased disproportionately during the health crisis caused by the Coronavirus, it has implemented multiple restrictions on business immigration and plans to continue restructuring possibilities for local companies to hire foreign workers.
In this way, the Trump administration plans to protect the sovereignty of the country and prevent immigration from diminishing opportunities for American citizens.
Visit our Blog section to keep up to date with immigration news.
The Trump administration intends to remove the H-1B visa lottery
Local companies massively use the H-1B visa program, hence, the number of applications usually exceeds the annual limit, which is normally 65,000. Therefore, when this happens, the USCIS uses the H-1B Visa Lottery to randomly choose applications that will be approved within the established limit.
On Wednesday, October 28, 2020, the Trump administration proposed eliminating the H-1B visa lottery and replacing it with another election system. Basically, his government wants the USCIS to approve applications depending on the salary if they exceed the limit.
It means that, under the Trump administration's proposal, the USCIS must approve the highest-paying applications first, until all 65,000 available work visas are granted.
With this, the current administration intends to prevent local companies from hiring foreign workers just because their wages are usually less expensive, incentivizing them to first hire American employees and go to business immigration services only when strictly necessary.
Seek reliable help if you have an immigration process
The US' administrations always tend to change the local immigration system depending on their ideals and purposes. Therefore, it is constantly changing and it is essential to have accompaniment of experts when submitting an immigration application. They are up to date with current immigration policies and can guide you towards the success of your application.
If you have any questions about an immigration issue or relating to a case you may have currently in progress, then please don't hesitate to contact us for a FREE Phone Consultation with one of our expert immigration attorneys.
Simply call Motion Law today at: (202) 918-1799.