Leaders Criticize Political Approach to Immigration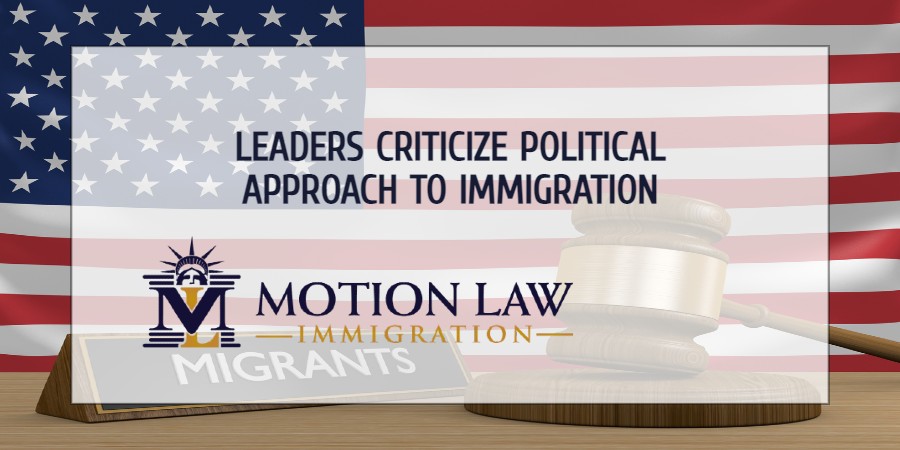 Leaders call for a different Republican approach to immigration
Republican leaders are calling on their fellow party members to change their approach to immigration, especially when it comes to their political campaigns.
In fact, several leaders in the border territory state that certain Republican members have been using immigration as a pillar of their political campaigns for decades; in other words, politicizing an issue as sensitive as immigration.
We want to provide you with constant accompaniment during your immigration process and help you build the future you want and deserve in the US. Contact Motion Law Immigration and follow the advice of our experienced attorneys, regardless of whether you need help starting an immigration process from scratch, if you need to apply for your legal documentation or if you have a pending process.
The politicization of immigration
It is no secret that immigration has been a very important part of many political campaigns throughout the history of the US. This is because it is a sector that generates controversy and different opinions in the political arena and among the American population.
The different perspectives and positions regarding immigration give rise to policy proposals that gain momentum during election periods, be it presidential or congressional seats.
However, political leaders claim that, although immigration is a controversial issue, it should not be politicized in order to have more appeal to the American public.
As multiple immigration processes have changed over the past few years, the best recommendation and decision when starting your immigration journey in the US or completing a pending process is undoubtedly to seek reliable help from experts who have the necessary and appropriate tools to lead you to the success of your immigration application. Contact Motion Law Immigration, schedule a FREE Consultation and follow the advice of our experienced attorneys!
The need for a change of perspective
Aside from the aforementioned, political leaders of all stripes state that it is imperative to change the perspective and approach to immigration in order to act upon the local system.
Do you need help with an immigration case of any kind in the US? Then do not hesitate to Contact Motion Law Immigration, schedule a FREE Consultation and follow the advice of our experienced attorneys. Our team can help you regardless of whether you plan to start your immigration journey from scratch or if you need to complete a pending process already inside the country.
Give yourself the opportunity to have a successful immigration journey
The success of your immigration process could be just a phone call away. Feel free to Contact Motion Law Immigration and ask for your FREE consultation with our expert attorneys, who have vast experience when it comes to all kinds of immigration processes, from business and family immigration, to humanitarian programs – they have surely helped many people in the same situation as you.
You deserve this opportunity
We want to help you fulfill your dreams in the US through the immigration process that best suits your current needs. Therefore, do not hesitate to contact Motion Law Immigration, schedule a FREE Consultation and follow the advice of our expert immigration attorneys, who have vast experience with all kinds of immigration cases and will surely know which is the best alternative for your particular case.
Simply call Motion Law today at: (202) 918-1799.