Immigration News Monday 31st January 2022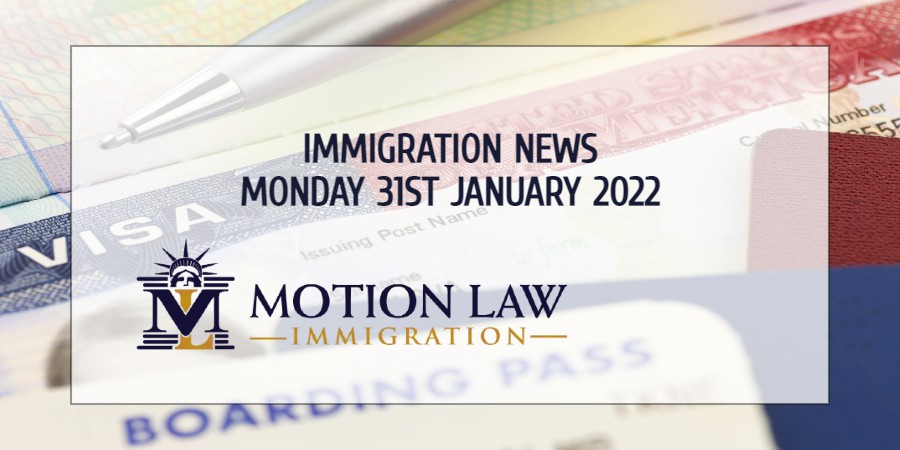 Learn About the Latest Immigration News as of 01/31/2022
Immigration has always been present in the history of the US. In fact, it is an essential part of the local culture and has given this North American nation an admirable and internationally recognized economic and social strength.
However, immigration has never been static or constant in the country, but rather tends to be a quite controversial sector due to different opinions among the American population.
Therefore, if you need help with an immigration case of any kind, the first and foremost recommendation will always be to seek reliable help from experts, who are up to date with current immigration policies, have an in-depth knowledge of the local immigration system and will be able to lead you to the success of your application.
With Motion Law Immigration, starting your immigration journey in the US is just a phone call away. Contact our team, schedule a FREE Consultation and take advice from our experienced attorneys!
Other than that, here goes the immigration news roundup for Monday, January 31, 2022:
A request to the government from TPS recipients
The difficulties surrounding the renewal of Temporary Protected Status (TPS) threatens the future of hundreds of immigrant families in the US. To learn more about this news, click here.
Is immigration reform in limbo again?
Immigrant populations have long waited for substantial reform in the US immigration laws, and they state that, after Biden's first year in office, they are still waiting. To learn more about this news, click here.
DHS announces H-2B visa expansion
The Department of Homeland Security (DHS) recently expanded the cap on H2-B visas available during the first half of fiscal year 2022. To learn more about this news, click here.
In other news…
The US braces for another wave of migrants
According to DHS officials, the number of encounters in the border territory is likely to increase exponentially again in the spring season. To learn more about this news, click here.
Small percentage of migrants escape MPP
Although the Biden administration has attempted to modify the MPP (Migrant Protection Protocols) policy regulations, only a small percentage of asylum seekers have been able to escape this rule. To learn more about this news, click here.
Irregular migration data changes substantially
Now it is no longer migrants from Central America that lead the lists of illegal border crossings, but countries further afield such as Russia and Ukraine. To learn more about this news, click here.
Give yourself a chance to migrate safely!
We want to help you fulfill your dreams in the US through the immigration process that best suits your current needs. Therefore, do not hesitate to contact Motion Law Immigration, schedule a FREE Consultation and follow the advice of our expert immigration attorneys, who have vast experience with all kinds of immigration cases and will surely know which is the best alternative for your particular case.
Simply call Motion Law today at: (202) 918-1799.