Foreign Students Stranded Due to Backlog of Visa Applications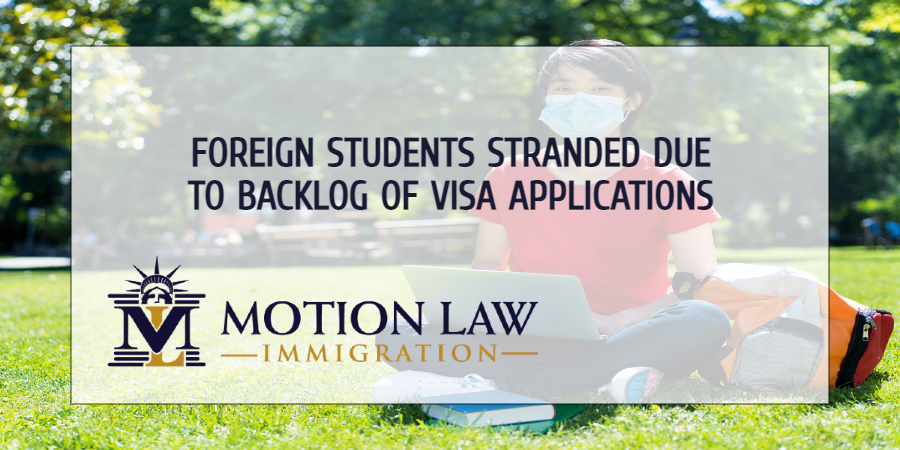 Educational Institutions concerned about the reduction of foreign student enrollment
It is quite evident that the current world situation goes beyond a health crisis. The sudden arrival of the global Coronavirus pandemic and its massive spread in almost every corner of the planet profoundly affected multiple sectors of society as we know it and delayed international progress in many ways.
The health emergency also brought an economic, social and even political crisis on a global level. This is because the main recommendation to avoid massive contagion is social distancing, which led governments around the world to adopt quarantine as an emergency measure, pausing informal trade, reducing cash flow and affecting the culinary and entertainment sector.
Other than that, in the case of the US, one of the sectors most affected by the health crisis is education. It is important to explain that most higher education institutions such as colleges and universities find economic strength, intellectual diversity and sociocultural growth thanks to the inclusion of thousands of international students, who bring brilliant minds, talent, innovation and, of course, a quite high investment.
Therefore, local educational institutions felt the impact of the pandemic as foreign student enrollment decreased substantially during 2020 and even during the first half of 2021. Now that the health risk is decreasing, colleges and universities still fear that the backlog of visa applications will not allow thousands of students around the world to come to the US for the fall period.
Do you need help during your immigration process? Regardless of your particular case, our team can help you. Contact Motion Law Immigration and schedule a FREE Consultation with our experienced attorneys!
Reducing the backlog of visa applications will take time
Currently, the US immigration system faces a fairly high backlog of visa applications, which is related not only to the global COVID-19 pandemic, but also to restrictive policies implemented by the previous administration, headed by former Republican President Donald Trump.
The current administration of the US, headed by Democratic President Joe Biden, is trying to streamline immigration processes and reduce the backlog of pending cases, but is also fully aware that embassies and consulates around the world must follow certain guidelines depending on local conditions and protect the health of immigration officers and employees.
Several educational institutions have expressed concern regarding the abysmal reduction in international student enrollment, which negatively impacts their economic stability. In fact, in one of our most recent articles, we talked about certain universities and colleges that are urging the Biden administration to attract more foreign students.
However, the Biden administration recently explained that eliminating or even partially reducing the backlog of visa applications around the world is not an easy task and will possibly take a considerable period of time since there are still many countries that are facing the repercussions of the health crisis and do not have optimal conditions to expedite immigration processes.
Follow our team's advice during your immigration process!
It is important to understand that, even though some immigration processes are currently delayed, you can still start your immigration journey without any problem and organize your documentation effectively and efficiently.
If you, a family member, or a friend need help with an immigration case, please contact Motion Law today to schedule a FREE Consultation with one of our expert immigration attorneys. Our team will be happy to guide you through your immigration journey in the US.
Please contact Motion Law Immigration today at: (202) 918-1799.