Democrats Discuss Options to Continue Immigration Reform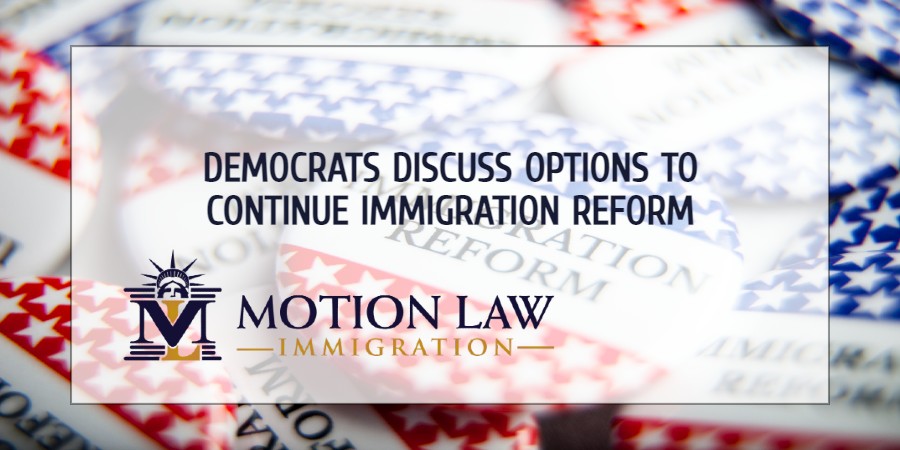 Democrats discuss possibilities to make immigration reform viable
Several representatives of the Democratic caucus are looking for alternatives, following the Senate Parliamentarian's rejection, to include immigration provisions in President Biden's spending bill.
The decision of the Parliamentarian, Elizabeth MacDonough, to stop the bill proposed by Democratic leaders, which would benefit a considerable number of undocumented immigrant workers, has generated great controversy among the bill's promoters, activists, advocates and immigrant communities.
Are you about to begin your immigration journey in the US? Or, do you need to complete a pending case already within the country? Either way, our team can help you. Contact Motion Law Immigration, schedule a FREE Consultation and take advice from our experienced attorneys!
Uneasiness among supporters
Supporters are calling on Democratic representatives to find some option that will allow the spending bill to move forward, as they believe that the fate of thousands of migrants who have been waiting for decades for a substantial change in the policies that regulate migration cannot be left in the hands of a single person.
Protect your future by following the advice of immigration experts. Contact Motion Law Immigration, schedule a FREE Consultation and follow the advice of our experienced attorneys who, through years of experience, have surely helped many people in the same situation as you.
Democratic Senators seeking legal options
Several Democratic Senators such as Bob Menendez, who have been actively involved in the negotiations surrounding the bill, are carefully reviewing viable alternatives within the legal protocols to keep the budget package moving forward.
According to Menendez, he and the other supporters are "considering all the options legislatively, procedurally, administratively".
Starting and completing an immigration process is simpler and easier if you follow the advice of professionals. Contact Motion Law Immigration, schedule a FREE Consultation and follow the advice of our experienced attorneys!
What needs be defined in order to consider alternatives
The number of Democratic Party representatives in the Senate who will support the option to set aside the parliamentarian's advice, if so decided by the governing caucus, has yet to be determined.
However, this option is still unclear because some Democratic representatives had previously stated that they would not override the parliamentarian's ruling.
At Motion Law Immigration we like to keep you up to date with the latest immigration news, measures and policies. That is why we update our Blog Section on a daily so that you can learn about the immigration system and the latest changes to local policies. Other than that, do not hesitate to Contact our team if you need professional assistance with an immigration process of any kind.
While these legal provisions are being defined, protect your own immigration process
If you are considering starting your immigration journey in US at this time, it is important that you follow the advice of experts in the field, who can provide the right information on current regulations and help you have a smooth process.
It is no secret that starting an immigration process in the US is not always the easiest task. However, our team of experts really simplifies the process for you and can provide constant accompaniment during your immigration journey. Please don't hesitate to contact us for a FREE Phone Consultation with one of our expert immigration attorneys.
Simply call Motion Law today at: (202) 918-1799.